ScrapbookDeals4U.com is celebrating its one year anniversary in March and we are getting ready for a big party! You are all invited!

It will be a month long party filled with challenges, games, and super fun prizes. Come party with us! You will get your creativity flowing again!
The first challenge will be issued on March 1st with another challenge following every other day. Games and prizes will be happening throughout the month. At the end of the month, all participants will be eligible for a fabulous GRAND PRIZE!

So, whose ready to PARTY???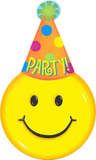 Click
here
to RSVP!!!
ps-have you seen the site's new look? Its amazing! Come on over and check it out.